Web Accessibility Forum 2015
November 19, 2015
Infosistema attends the Web Accessibility Forum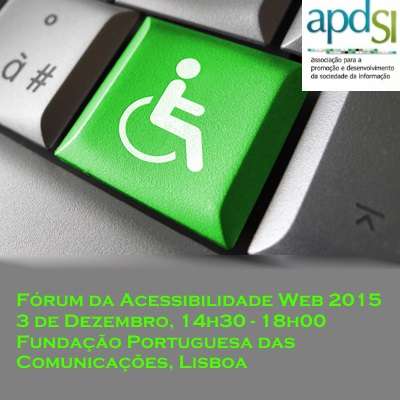 Jorge Pereira, Infosistema CEO, is going to participate as a speaker at the 2015 edition of the Web Accessibility Forum promoted by APDSI and the Foundation for Science and Technology on the 3rd of December at the Portuguese Communications Foundation.
Web accessibility goal is to enable all people with special needs to understand, navigate and interact with the Web.
According to data of European Commission, there are about 50 million European citizens with disabilities who require access to Web content (EU 2010). According to a source from the National Confederation of Disabled People Organizations (CNOD 2010), there are in Portugal about a million people with disabilities.
Web accessibility can be analyzed according to several dimensions: ethics – rights to equal access, social – taking into account the aging of the population and economic – based on the economic potential of all people involved.
This event aims to launch a broad debate on the accessibility needs of citizens with disabilities and which ideas, measures and projects that are being discussed and implemented today to fulfill this situation.