Filipa Ruivo – Summer Intern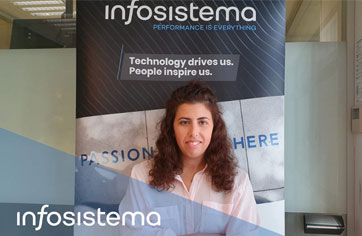 Filipa is one of our 2019 summer interns.
"My name is Filipa Ruivo and I am a graduate student at Católica Lisbon School of Business & Economics in Business & Administration and I plan to follow up with a two-year master's degree in Finance next year.
I became part of Infosistema's team over 2 years ago and, since then, my personal and professional growth has been tremendous. I vividly remember the day I joined the company: I was excited – looking for a new challenge and a place where I could improve myself. Not only did I find that, I also found an ecosystem of collaboration where team members are continuously learning from each other and improving their skills.
This has been a journey of autonomy, challenge and discovery – full of interesting projects. I'm delighted to be part of a team that works as a whole, with the flexibility to take risks and make mistakes, while aiming to achieve the best results. It's amazing to see that each new project and each obstacle we overcome brings us closer together as a team."