Gonçalo Alves – Summer Intern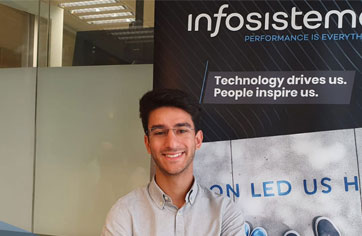 Gonçalo is also another one of our 2019 summer interns.
He is 24 years old, a simple guy, adventurer, car fanatic and curious about "every little thing.
"I have graduated in Hotel Business and Management at Universidade Europeia which gave me numerous of enriching experiences both at professional, academic and personal level.
I had the opportunity to do an international exchange program, during three months at Kendall College in Chicago, the "windy city". Since then, the passion to know new countries, cultures and visions by different individuals, it somehow became intrinsic in me.
In addition, I had the opportunity to do internships and work in hotels of excellent reference in Portugal that, nevertheless, led me to reflect that "perhaps" there was more to explore besides the hotel industry.
And so it was, I ventured myself into a master's degree in Business at Catholic Lisbon SBE and now here I am doing this summer internship in Infosistema that I chose when deciding how to add value to my summer as well as to my curriculum and consequently being present in a professional context to which I had not yet been exposed to, in the area of management and marketing, contributing to the improvement of the department to which I was inserted and learning with experienced professionals in the area."