Leonor Momade – Summer Intern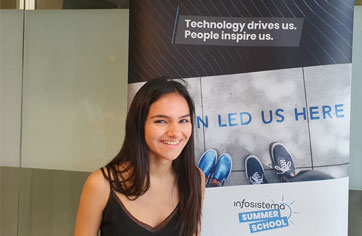 Leonor also integrates our 2019 Summer School internship.
"I am Leonor Momade, I am 19 years old and I am going to the 3rd year of my degree in Management at Nova SBE.
During my search for summer internships, I came across Infosistema's announcement, which offered an IT-related Marketing program. I thought it was a great opportunity to learn something new and to live the day-to-day life of an IT and business consulting firm.
This internship has been a great learning experience and it has made me realize that one of the most important skills to enable success is one's receptivity to innovate and learn. Technology disrupts everything we know, becoming essential to keep up the pace."