Infosistema Data Migration Manager (DMM) now available in the OutSystems Forge
November 21, 2017
After launching Data Migration Manager 1.0 in the last 5th of September, Infosistema now announces public availability of DMM in the OutSystems forge.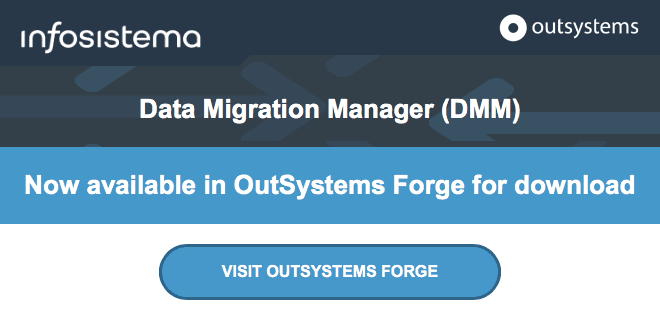 DMM solves major Data Migration challenge
Infosistema DMM allow a significant cost reduction by saving hundreds of hours building custom scripts, increase quality and allow unprecedented flexibility in data management. DMM enables data migration across OutSystems environments or servers (v9 or v10) using a simple user interface. It also supports features like data anonymization and data scramble, essential to comply with GDPR.
As mentioned by Jorge Pereira, Co-founder and CEO of Infosistema, "This tool solves one of the main needs of our customers. More than 50% indicated the data migration as a big challenge."