Infosistema challenges college students for the first ChallengeDay Infosistema.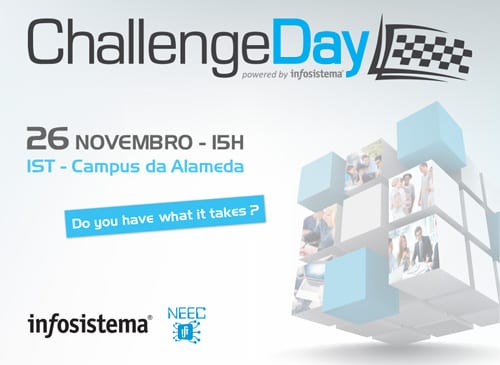 ChallengeDay is an initiative powered by Infosistema which has the goal of challenging the college students in a real world case problem solving. With this experience the students can have contact with the daily reality of companies.
The event will consist on a presentation of a real and actual problem suggested by Infosistema to the students. The contestants will have a period of time to solve the challenge and present the best solution accomplished by the team in a pitch of few minutes.
The most agile solution will be awarded and its proponents declared winners, receiving a prize offered by Infosistema.
The first ChallengeDay Infosistema will take part on 26th of November in IST – Campus Alameda (with the partnership of NEEC IST) and will count with the attendance of students from different majors of this awarded university.
For all the IST students that intend to apply with their teams, please check the event webpage and fill the form – ChallengeDay Infosistema (https://www.infosistema.com/challengeday/ )