Article
Odysai, the startup that wants to restructure the world's information
June 14, 2019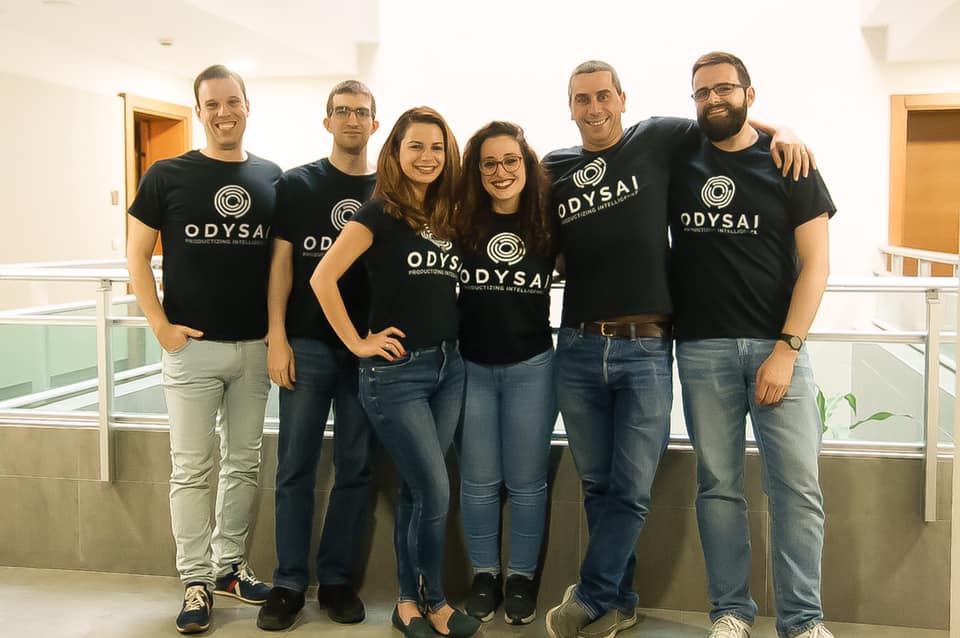 Odysai, the startup that wants to restructure the world's information.
80% of the information sent between companies circulates in the form of a document.
Whether it's an email or an invoice, the information is designed to be read by humans. Making this process readable by software can be challenging, but it is possible. That's why Odysai's primary mission is to restructure the world's information.
"In practice, this information-sharing loop requires companies to have a set of backoffice people whose only function is to validate and extract information from those documents and take it to other systems. What we do at Odysai is create the technology that supports this process, so that it can become automated," says João Fernandes, founder and CEO.
How did it come about?
Odysai was born in 2016, within the Joyn group, at a time when the group was going through great growth. "We ended up taking advantage of this context to think about how, at the technology level, we could solve some internal problems," explains João Fernandes.
And that's how Odysai, a startup specializing in innovative technology solutions via artificial intelligence, took off.
How, then, can you speed up processes dependent on the information in multiple documents?
DocDigitizer, Odysai's first product, was born from this idea. A major goal of this tool is to free people from the time-consuming process of interpreting multiple documents and migrating the same information to several different systems.
"We started by trying out what was in the market and realized that there was nothing that fit the type of problems and the type of company that we had at the time," recalls João Fernandes about the evolution of the product. "We realized later that other companies also had the same problem, and we gathered a group of people interested in kicking this project off. That's how we started DocDigitizer," he says.
2017 was the year the idea was developed and tested. After several pilots and clients, the project matured and, in February 2018, was released to the market. João Fernandes says that, from there, the aim has been to grow and perceive of new use cases for this technology.
The ultimate goal of Odysai is to bring the automation paradigm to more and more companies. What started as a project around the processing of invoices for financial and accounting departments, is now a technology that serves to support the opening of bank accounts, credit applications, and applications to open new contracts.
And the future?
At this point Odysai is at a turning point. The idea is to now to expand to the United States market. "We have recently begun to internationalize our service and we are moving towards the North American market, which is a very big step for a European company," explains João Fernandes. The goal now, he says, is to ensure that 2019 is Odysai's year of expansion into the US.
What of the role of startups in introducing innovation in large enterprises?
The way companies look at innovation has changed a lot over the past few years, and it is not by accident. Startups have played a key role in this aspect, mainly in creating a risk (and, in some cases, failure) culture with these entities. "It's difficult for companies to accept innovation, to accept startups because innovation carries a lot of risk. Fortunately, that has started to change a lot because of the role of startups, and nowadays companies are willing to bet more on new technology, risk more, and consequently, take in the worthy value of innovation," says João Fernandes. But there is still a long way to go and many organizations are still very closed to innovation and "are afraid to change their paradigms, their business models. That makes it more likely for them to stay in the status quo."
The entrepreneurial mindset begins to be adopted at large companies
Startups play an important role in relationship with large companies, not only in the implementation of innovation, but especially in creating a culture of failure. "This may seem counterintuitive, but the thing that a startup can best teach a corporation is, in fact, failing and having the ability to quickly readjust itself," explains the CEO of Odysai. This is because "large companies will arm themselves in order to avoid failure because failure is becoming more and more expensive. In a startup, the purpose is to fail. Odysai fails every week and this is the purpose. "That spirit and this way of looking at innovation as a risky experience was one of the major changes I felt," João Fernandes says.
"In Portugal, most decisions to be with a startup are made out of fear"
João Fernandes feels that the Portuguese business community is still "hitching" off of startups, for fear of not being able to keep pace. "Companies feel that their business is changing and they do not know how to deal. Therefore, out off fear, they try to at least be close. There are few companies in Portugal that make the decision to bet on risk, on startups, because they believe it's important.
Fed up with exchanging documents? We have the answer for your company here.
"Our business model is aimed at all companies that have the need to process, validate and digest