Unicage partners with DMM (by Infosistema) to improve data integration of Legacy Systems into OutSystems
May 16, 2022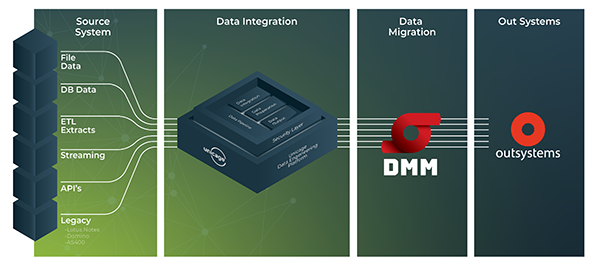 The Change
According to Gartner1, by 2025, 70% of new applications developed by enterprises will use low-code or no-code technologies, up from less than 25% in 2020.
OutSystems2 has been for more than 15 years a leader in low-code technology, offering its clients a way to quickly develop fast, reliable, mission-critical enterprise-grade solutions, integrating cloud-native scalability, high availability, governance, and security controls already built in the platform. To complement its amazing DevOps CI/CD (continuous integration / continuous delivery) Service Center, the OutSystems platform itself keeps evolving with offerings like Cloud PaaS, AI-powered dependency checking, impact analysis, and self-healing.
The Challenge
To connect the OutSystems platform to external databases, OutSystems offers 2 out-of-box options: Integration Studio3 and Integration Builder4. However, in both solutions, the data keeps residing in the external database. These solutions are connectors and not migration tools.
If you are migrating an application that uses legacy technology (Lotus Notes, Domino, etc.) to OutSystems, and you do not want to keep the old database around and wish to take advantage of all the low-code capabilities of the OutSystems platform, you need to migrate the legacy data into OutSystems.
In low-code, the work is done at higher levels of abstraction, and the database structures are controlled by the platform itself.
This means that traditional ways to migrate data (like scripting and traditional ETL tools) aren't efficient, since the underlying structures and dependencies are defined inside the platform's metadata.
Usage of such traditional ETL methods incurs in exponential time-to-market, higher risks, specialized resources availability and in general higher financial costs.
Also, for recurrent data transfers into OutSystems, data integration can be challenging when companies are presented with multiple data formats coming from different sources. When this happens, most companies resort to the simultaneous use of multiple types of software and tools to consolidate this data. However, due to this multitude of tools, this solution ultimately leads to complex pipelines and systems that can be hard to maintain and that might present incompatibilities between the different components.
The Solution
DMM by Infosistema5 is a Data Migration Manager for OutSystems that with a 100% low-code visual interface offers:
An Export feature, so you can get the structure of your OutSystems applications.
An Import feature, so you can quickly upload the data from CSV files into OutSystems, guaranteeing all data consistency, circular and self-references, binary data, etc. without any scripting or manual intervention.
Unicage6 offers a data engineering solution that allows you to create the needed input files, based on the knowledge of the expected OutSystems structure, to seamlessly load your legacy data into your OutSystems environments through the DMM solution.
Unicage's data engineer experts work with Unicage's proprietary technology to allow for the construction of robust, yet flexible, systems in a modular way, through data processing pipelines. Unicage technology is also format-agnostic, meaning that it can work with any type of text data independent of its format.
For example, Unicage can develop a data integration system with Unicage on its core, capable of extracting data from different sources such as databases, file systems, APIs, ETL extracts, streaming, and legacy systems such as Lotus Notes and Domino. This data is then processed and normalized using Unicage commands so it can be injected into the Data Migration Manager (DMM) for OutSystems.
In Conclusion
Change happens, and low-code solutions like the leader OutSystems are at the core of business transformation and digitalization. Organizations struggle to access information that will allow them to have data at the right time and at the right place to make decisions. Many organizations still have legacy systems that are not directly connected to the customer interfaces, making cross-channel data flow impossible – legacy systems may even work batch-based and need to manually control individual processes internally to build an omnichannel journey.
This partnership between Unicage's services and proprietary technology and Data Migration Manager (DMM) product solution offers a seamless, easy, and direct way to get your legacy data into the OutSystems platform!
Links: