EVENT: AGILE METHODOLOGIES – Myths and Realities
May 30, 2018
The new Agile and Scrum paradigms are explored and analyzed in the face of international experience. Member of the Board of the Scrum Alliance. Come and learn the new approaches that currently make the difference in project management.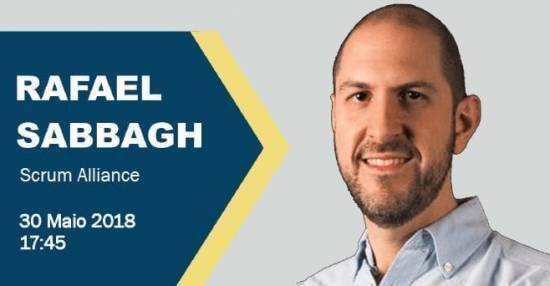 Join Us and Participate!
---
Speaker: Rafael Sabbagh
Member of the Scrum Alliance Board of Directors and Certified Trainer such as Scrum Trainer (CST). Author of the book "Scrum: Agile Management for Successful Projects".
He has trained and consulted in more than 20 countries in recent years, giving him a comprehensive overview of how projects are managed globally, what are the main challenges and ideas on how to solve them.
He is a global speaker and passionate about the Agile methodology. Uses an innovative and pragmatic approach to problem solving for the development of software projects, focusing on the rapid return on investments with impressive results.
---
Organization: ToastMaster International
It is a non-profit organization, a world leader in communication and leadership development
with more than 352,000 members in 141 countries. Its mission is to develop
each individual to become a communicator and an effective leader. The members
improve their ability to speak in public and play leadership by participating in
one of the 16,400 clubs in the global network (43 clubs in Portugal) using the
"Learn by doing".
Contacts: Quinta da Fonte Toastmasters Joao de Mendonca 914.164.212
Lagoas Speakers Toastmasters Afonso Aires 913.311.509
Ambithus is a Consulting and Training company specializing in project management, business analysis and agile methodologies. Sponsor of the speaker's visit to Portugal.
---
Sponsors: Infosistema co-sponsors this event