Article
Magic Quadrant for MultieXperience Development Platforms (MXDP)
August 24, 2019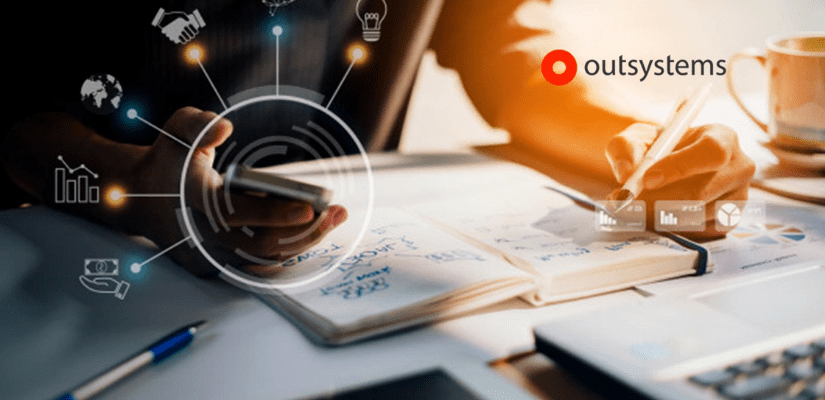 Mobile apps, progressive web apps, conversational apps, and immersive apps are among the many types of applications that people use to interact with and within digital businesses. [0]
Outsystems named a Leader in Gartner's Magic Quadrant for MXDPs
The Magic Quadrant published on July 10th, 2019 will help application leaders assess vendors of MultieXperience Development Platforms (MXDPs), which will enable the development of these types of solutions.
Magic Quadrant is a sequence of market research reports by Gartner. These reports provide a graphical competitive positioning of four types of technology providers in fast-growing markets:
     1. Leaders;
     2. Visionaries;
     3. Niche Players;
     4. Challengers 
Based on two criteria: 
     1. Completeness of Vision;
     2. Ability to Execute.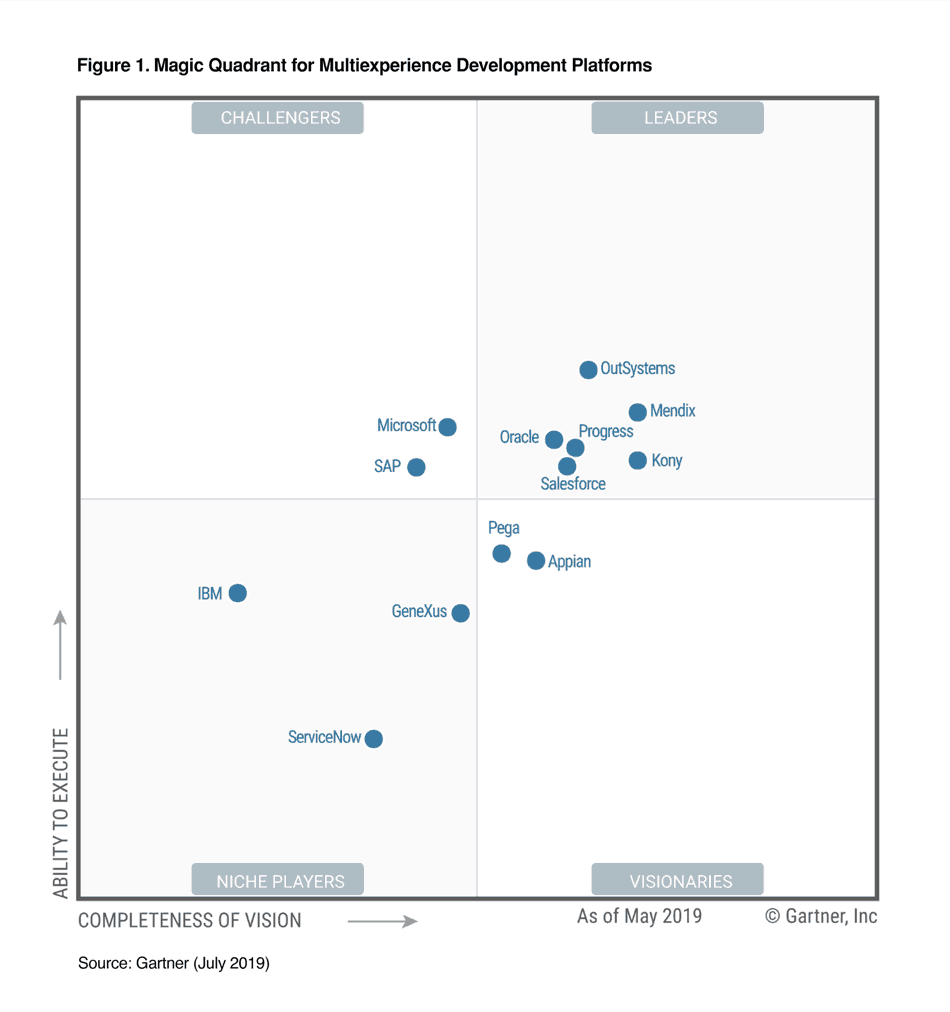 It is important to notice that this is the first Magic Quadrant for MXDPs, and the previous report mentioned mobile apps development platforms (MADPs).
According to this study conducted by Gartner, the future of app development is multi-experience.
This means that development platform vendors are meeting user and industry demands by expanding beyond mobile apps. As a result, progressive web apps (PWAs), conversational apps (voice assistants and chatbots), immersive apps, and wearable apps are emerging with multi-experience in mind. It is expected that, by the end of 2023, around 25% of the mobile, web, and conversational apps will run through a multi-experience development platform.
What's the difference between MXDP and our older abbreviation, Omnichannel? I leave you to decide!
"Nowadays, customers tend to be looking for information on the physical store and, at the same time, they are getting additional information from their mobile devices about offers and, possibly, better prices." [1]
In this context, Omnichannel marketing arises, providing the customer with an integrated shopping experience.
The main idea is that the customer could be shopping online from a desktop or mobile device, via phone, or in a physical store and the experience will be seamless. Therefore, the distinctions between channels – onsite, social, mobile, email, and physical – disappear, as a single view of the customer as well as a single experience of commerce emerges. Omnichannel removes the boundaries between different sales and marketing channels to create a unified, integrated whole.
The MXDP market contains some of the largest software vendors that serve the needs of development teams. Outsystems was recognized as a leader in the 2019 Gartner Magic Quadrant, along with Mendix and Oracle. [2]
Infosistema has been working with this number one technology and has partnered with OutSystems for more than 10 years. Our adaptation and increasing expertise in this field took us to where we are today, at our Center of Excellence. By leveraging projects and overcoming challenges proposed by clients and the market itself, we position ourselves as a highly specialized team that, through the simplification of processes, guarantees the flexibility needed for successful projects.

To align to our customer's omnichannel commerce needs, we have set up a Center of Excellence (CoE) at Infosistema with the aim of providing them with all the guidance needed to deliver an omnichannel experience to their customers.
Furthermore, our CoE helps you digitally transform and simplify your business by maximizing the business value of IT investments, delivering high-quality IT solutions that improve time to market and reduce the total cost of ownership!
Written by Bruno Costa
Global Services Manager @ Infosistema, 2019.07.17
Thirsthy for Knowledge? Subscribe to our Newsletter and Never Miss Another Byte!